WE HELP YOU BUILD CHAMPIONS!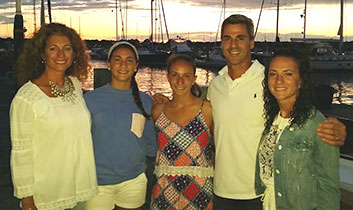 Thank you for considering a purchase from Anthem Sports! Anthem Sports is a national distributor of brand name sporting goods and equipment. We take great pride in providing the best customer service in the industry and we have hundreds of thousands of happy customers. Our expert staff is trained to help guide you through your purchasing decision. Give us a try and find out why coaches, athletic directors and players everywhere choose Anthem Sports for their sports equipment needs.

Anthem Sports is a family owned business and has an office and warehouse in Pawcatuck, CT. President and founder Mark Ferrara graduated from Boston University in 1987 where he played football for the BU Terriers. Mark followed his passion for sports and started Anthem Sports in 2002. Mark has a wife, Carolyn (above, left), and three daughters Grace, Olivia and Madeline (left to right). Carolyn ran track at Boston College and Madeline, Olivia and Grace are top athletes that excel in soccer and other sports. The Ferrara's are a sports family through & through and they love all things Boston Sports!
MEET OUR STAFF!

Kim - Office Manager
Kim keeps our day-to-day operations running smoothly. Kim was our very first employee back in 2002! In her spare time she enjoys spending time with her family and watching UConn Lady Huskies basketball.

Steve - Warehouse
Steve makes sure your orders get out the door super fast! He is a die-hard fan of the team from the frozen tundra, the Green Bay Packers.

Pauline - Purchasing
Pauline makes sure products are available when you need them!

Mary - Accounting
Mary is an avid runner and sailor. She is also a loyal fan of University of Connecticut athletics, especially UConn basketball. #BleedBlue

Jennifer - Systems & Data Manager
Jennifer knows how to get our company operating at peak efficiency! She also loves nature.

Catherine - Customer Service
Catherine is an avid Boston sports fan, and in her free time enjoys playing basketball and working out.

Rob - Digital Marketing Manager
Rob enjoys taking goofy-faced selfies with labradoodles.

Julie - Customer Service
Julie is a fan of the Pittsburgh Steelers, Dwayne "The Rock" Johnson, and gardening. She also loves to spend time with her family at the beach.

Tanya - Purchasing
Tanya is her name and proofreading is her game. She also enjoys going on road trips and has been a Patriots fan since birth.

Christina - Team Sales
Christina is a die-hard New York Yankees fan and enjoys dominating on the soccer field.

Ariana - Office Support
Ariana is a fan of the New York Giants, traveling and Netflix (not necessarily in that order).

Marisol - Warehouse
Marisol makes sure your orders are picked accurately!

Coral - Office Support
Coral is the proud owner of the handsomest cat in the land, Harold.

Carolyn – Sales & Marketing
Carolyn loves sports and when she is not golfing (former club Champ!) or watching sports she logs big-time miles to watch her kids play soccer!

Mitch – New Product Specialist
Mitch is a huge fan of Roger Federer and the Boston Celtics. In his free time, he enjoys photography, biking, and traveling.

Stacey - Accounting
Stacey is a big fan of all sports. She enjoys football, basketball and softball events through parenting and competed in gymnastics in her early years. In her free time she enjoys yoga, gardening and carpentry projects.

Dylan - Team Sales
Dylan is a sports fanatic who has played soccer, football, baseball, and basketball his whole life. He is a die-hard Boston fan and his favorite soccer team is Liverpool F.C.

Andrew – Marketing Intern
Andrew is an extreme fan of the Chicago Blackhawks, Chicago Cubs, Watford FC, and Formula 1 racing. He enjoys making podcasts with his buddies and watching sports in his free time.

Home Court
Anthem Sports warehouse and office building (where the magic happens) :).