Anthem Sports Reviews and Awards

Here's a small sample of buyer reviews of Anthem Sports. At Anthem Sports, our goal is to provide you with 5 star customer service. We pride ourselves on going the extra mile to ensure that your orders are delivered on time and to 100% of your satisfaction. Drop us an email at [email protected] and let us know how we are doing. We'd love to hear from you!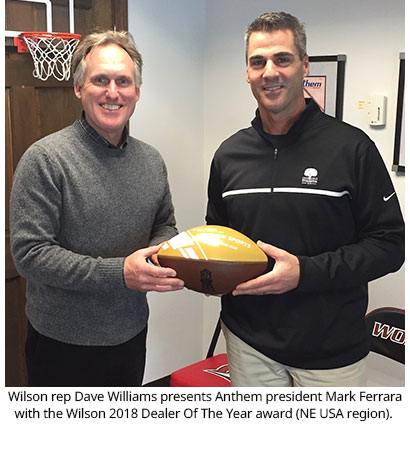 Anthem Wins Wilson 2018 Dealer Of The Year
Pawcatuck, Conn. – Anthem Sports is proud to be recognized as the Wilson Sporting Goods 2018 Dealer Of The Year for the Northeast USA region.
Anthem Sports and Wilson have enjoyed a long working relationship that dates back to Anthem's inception in 2002. For more than 17 years Anthem has been one of Wilson's leading distributors, offering a full complement of Wilson gear on the Anthem Sports website including footballs, basketballs, baseballs, softballs, ball gloves, tennis gear, and more.
Additionally, Anthem Sports carries a complete catalog of sports products from Wilson owned brands like Louisville Slugger, Atec, DeMarini, Evoshield, and Luxilon.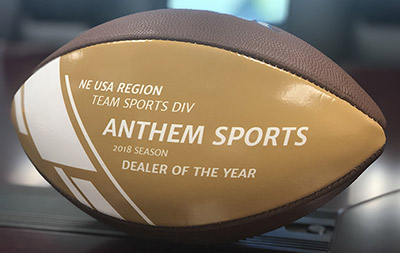 About Wilson Sporting Goods
The Wilson Sporting Goods Company is an American sports equipment manufacturer based in Chicago, Illinois. Since 1989, Wilson has been a subsidiary of the Finnish group Amer Sports.
About Anthem Sports
Anthem Sports is a national distributor of brand name sporting goods and equipment based in Pawcatuck, CT.
---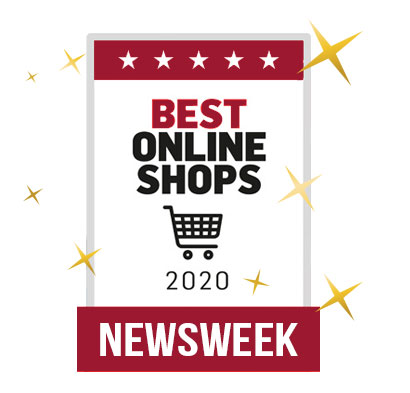 Anthem Sports Makes Newsweek's Best Online Shops List
Pawcatuck, Conn. – Anthem Sports has been named in the top 4 ranking of sports product websites in Newsweek's Best Online Shops for 2020 list.
Newsweek based their web store rankings on 41 objective criteria divided into these 6 dimensions:
Structure Usability - How functional and user friendly is the online shop?
Trust & Security - Does the customer clearly see that the site is secure?
Payment - What payment methods does the shop offer? Is an overview of the payment methods available?
Purchase & Delivery - Is it possible to get free delivery? Is expedited delivery offered?
Service & Communication - Pre Sale: are social networks used, is it optimized for mobile? After Sale: how/when can a store employee be contacted?
Technical Details - How fast does the homepage load? How many visitors leave after landing on the homepage (Bounce Rate)?
Anthem Sports is honored to be identified as one of the top online sports equipment shops. We'll continue to strive to be the best by offering 5 star customer service!
---