What size basketball should a player use?
How to choose the right basketball size:
We are often asked, "what basketball should I buy for my son or daughter?" First, you need to know that basketball sizes vary by age group, gender, and the level of play or league. There are four standard basketball sizes used in game play; 29.5" circumference, 28.5" circumference, 27.5" circumference, and 25.5" circumference. Below you'll find more information on these four sizes, including the recommended age groups for each.
Use this handy basketball size chart to determine which basketball is best for you or your player(s):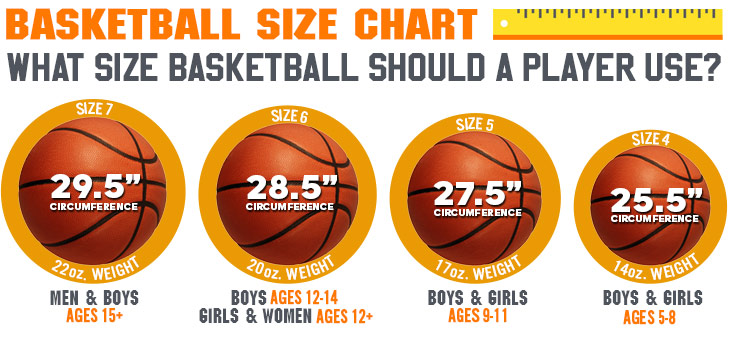 29.5" Basketballs
Men and boys ages 15 years old and older use basketballs that measure 29.5" in circumference and weigh 22 ounces. 29.5" basketballs are also referred to as "official size" or "size 7" basketballs. Men's leagues such as the NBA, college and high school use 29.5" basketballs. For boys, a 29.5" basketball should be used for ages 15+.
28.5" Basketballs
Women, girls ages 12+, and boys ages 12-14 use basketballs that measure 28.5" in circumference and weigh 20 ounces. 28.5" basketballs are also referred to as "intermediate" or "size 6" balls. Women's leagues including the WNBA, college and high school use 28.5" basketballs. Girls in 12+ leagues and middle school boys (ages 12-14) also use 28.5" basketballs.
27.5" Basketballs
It is recommended that boys and girls ages 9 to 11 use basketballs that measure 27.5" in circumference and weigh 17 ounces. 27.5" basketballs are also referred to as "junior" or "size 5" balls. The 27.5" circumference is the most common ball size used in youth basketball leagues.
25.5" Basketballs
Boys and girls ages 5 to 8 are recommended to use basketballs that measure 25.5" in circumference and weigh 14 ounces. 25.5" basketballs are also referred to as "rookie" or "size 4" basketballs.
Why Is Using The Proper Basketball Size Important?
First and foremost, players need to use the correct size basketball to develop proper ball handling and shooting techniques. It is especially important for young players to use the proper size/weight basketball during their development. Bad habits are likely to occur if a young player is using a basketball that is too big or is too heavy. The proper size basketball is necessary to teach proper hand placement for shooting with one hand, as well as for the correct way to pass and dribble.
Secondly, there's a good chance that a young player will lose interest in playing if he or she is not using the right size basketball. If the basketball is too big or too heavy for smaller players to properly grip and shoot, it is likely that they'll find the game less enjoyable.
Using the proper basketball size is a big factor in giving your budding hoops star the best shot at success and fostering their desire to play.
Comparing Indoor & Outdoor Basketballs
The main difference between indoor and outdoor basketballs is in the material of the ball. Indoor basketballs are made of either full grain leather, synthetic leather, or composite leather. Generally, it takes a few uses for a full grain leather indoor basketball to be "broken-in," and thus easier to grip. A leather basketball should not be used outdoors because the concrete surface of an outdoor court causes the leather to roughen and wear, ultimately ruining the ball's grip. Both composite and synthetic leather indoor basketballs do not require a "break-in" period like a full-grain leather ball. However, the overall quality of composite and synthetic leather balls is less than that of regular leather basketballs.
Outdoor basketballs or "street balls" are made of rubber and are durable enough to withstand concrete surfaces without effecting the ball's grip. The grip on a rubber basketball is generally easier to control, making them a good ball to use for beginning players.