New Youth Baseball Bat Standard (USABat)
Starting on January 1, 2018, a new wood-like bat performance standard will be implemented for all youth baseball bats used in age 14 and under baseball divisions.
What Is The New Bat Rule?
Beginning January 1, 2018, all youth baseball bats used in age 14 and under youth baseball divisions must be marked with a USA Baseball stamp to be eligible for play. All youth players above the Tee-Ball division are now permitted to use 2 5/8" barrel bats, in addition to 2 1/4" barrel bats, provided the bats carry the new USABat stamp (see USABat stamp examples below).
What Leagues Are Participating?
The new bat rule applies to age 14 and under divisions of Little League Baseball®, American Amateur Baseball Congress (AABC), Babe Ruth Baseball/Cal Ripken Baseball, Dixie Youth Baseball, and PONY Baseball.
What Leagues Are NOT Participating?
USSSA youth baseball and the Amateur Athletic Union (AAU) will NOT be implementing this rule change to the bats. USSSA baseball players age 14 and under can continue to use bats marked with the 1.15BPF USSSA stamp.
How Does The Rule Affect Tee-Ball?
Tee-Ball bats are not required to undergo lab testing for approval under the USABat program. However, in order to be eligible for play, Tee-Ball bats must carry the USABat stamp that includes the text "Only For Use With Approved Tee Balls" (see an example of the USABat Tee-Ball stamp below).
Tee-Ball bats that were purchased prior to the new bat rule implementation can be used provided the USABat Tee-Ball stamp is applied to the bat.
Why Was The New Bat Rule Adopted?
The national member organizations mentioned above asked USA Baseball to create a wood-like performance standard for youth baseball bats in order to make the game more uniform and ensure the long-term integrity of the game.
What Bats Are USA Baseball Approved?
When Will The USA Baseball Stamped Bats Be Available?
How Long Can I Use My Current Bat?
All current league-approved bats can be used through December 31, 2017.
Does The New Bat Rule Apply To Youth Softball?
No. Youth Softball Leagues will NOT be implementing this rule change to the bats.
High School & College Bat Rule
Bat Size Chart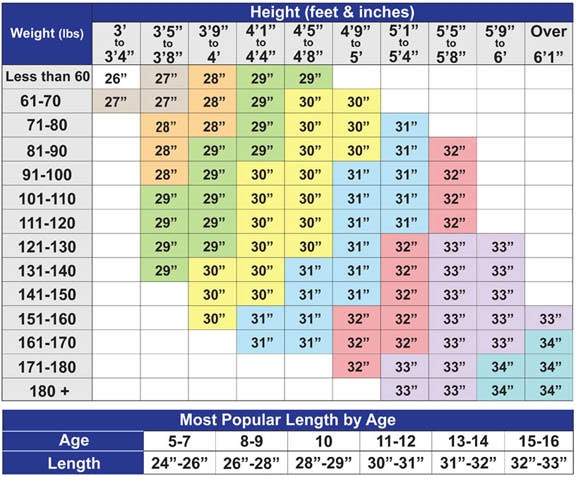 In most cases, bats are measured in inches and weighed in ounces. Typically, a bigger, stronger player will prefer a longer heavier bat, while a smaller player will prefer a shorter lighter bat. Since a player's power is generated through bat speed, it is important that you can swing your bat through the strike zone at maximum speed. Keep in mind that the right bat for you is based on personal preference. Make sure the bat you pick feels good when you swing it. The negative number found on all aluminum and composite bat represents the length to weight ratio of the bat or swing weight. An example would be on a 30" bat that has a "-9" would have a swing weight of 21 oz.
Your height and weight are a good way to determine what bat length may work best for you. Use the chart above as a starting point.
Click here to shop USA Baseball Approved Baseball Bats
Click here to shop BBCOR Baseball Bats